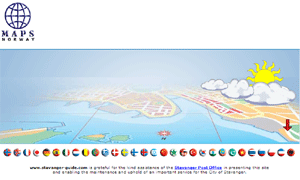 Stavanger is a very international city with a ferry to Denmark and many international flights.
To find your way around we recommend Stavanger-Guide, which makes great maps of the city for tourists and special maps for the many events that take place here. The pdf map on the left made by Stavanger-Guide is interactive. Try it out!

By boat: At the time being there is only one international route to and from Rogaland. This is Fjord Line's ferry from Stavanger to Hirtshals in Denmark.
For domestic travel you will find local car ferries to Tau, Bokn and Skudeneshavn and Kvitsøy. In addition you will find high speed and modern catamarans to Bokn, Kopervik, Haugesund, Bergen, Sauda and Tau among other destinations near and far.
Fjord 1 The ferry between Mortavika (30 minutes from Stavanger) and Arsvågen (40 minutes from Haugesund) depart every 30 minutes. You will find the timetables here
Fjord Line Car and passenger ferry between Egersund and Hanstholm, Denmark.
Tide Local ferries including the one between Mekjarvik and Skudeneshavn (Karmøy) and catamarans.
By train: The Norwegian State railway (NSB) has trains set up to go along the southern coast of Norway all the way to Oslo. There are no trains northward. The railway station is located in the center of town.
By plane: The airport, Stavanger Airport, Sola, is located about 15 kilometers from the city center. You can rent a car, take a bus or a taxi to and from the airport. The airport is Norway's oldest airport, opened by King Haakon VII in 1937. The present airport building was taken into use in 1987 and the helicopter terminal in 1989. The area control for all air traffic over West Norway, as well as to and from the oil platforms in the North Sea is located at Sola. The airport hosts CHC Helikopter Service AS, Norsk Helikopter AS and Pratt & Whitney Engine Center. In addition, the Rescue Co-ordination Center for South Norway is located at the Airport.